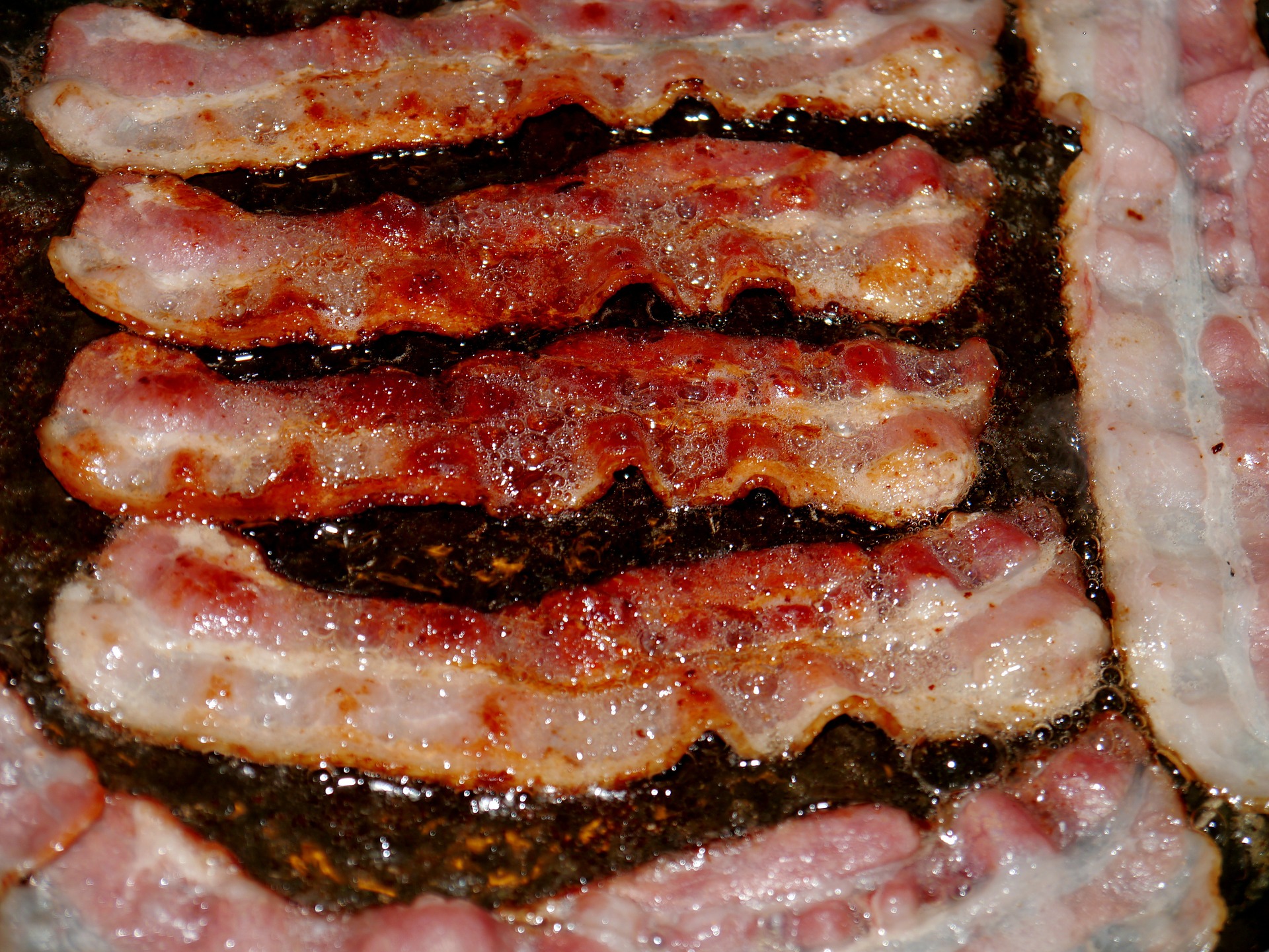 Bacon
Bacon, my love.
So many glorious mornings that only truly begin once the smell of pan-fried pig flesh is met by the crackling pops of it's natural oils and fats being heated to such extreme levels that it changes its molecular structure.
So many glorious meals that were brought from mediocracy to a delightful treasure hunt through bland greens, overused appetizers, unoriginal pizzas, and disappointing pasta dishes.
So many glorious doctors visits where the doctor once again tells me that if I keep eating this much bacon on a daily basis I am destined to suffer a painful and early death surrounded by my loved ones, and bacon, probably.
So many glorious flavors, scents, and fathers day gifts based on this very product.
Ah, bacon, thou art my meaning and truth.
Bacon truly is a glorious thing, but while bacon is wonderful, there is another substance that unlocks a whole new world of enjoyment at the cost of your circulatory system. That substance, is bacon fat.
Once used only to clog sinks to keep the hard-working and rights-oppressed housewife busy, bacon fat is now a staple in the hungry adventurer's diet. It offers the same characteristics as salted butter, but with more flavor and aroma.
Really, bacon grease is like a modern version of honey. Honey can be used in so many meals to add some natural sweetness. It's also great as a healing agent and antibacterial substance. Bacon, too, can be put in almost any meal to bring it up an extra level. It also can turn around your health, just like honey! Just… in the other direction.
One of my favorite things to do with bacon grease is to add two tablespoons of it to some Annie's White Cheddar Shells Mac & Cheese. Add a little crumbling of leftover bacon bits and some fresh cheddar cheese? Oh yes…
But, I realized last week that there are so many more things I could be doing with bacon. So, today I reached out to friends, family, food experts, and arch nemeses to find some great uses for bacon.
Many Great Uses for Bacon Grease
"Mac & Cheese Booster." – Me, you should know that, you just read it a second ago.
"Roasted Potatoes." – Josh, local Bacon expert.
"Fuel, I guess." – Lucy, one of those vegan people.
"Bagel Topping." – David, car enthusiast.
"Making Soap." – Commander Lgikaizen, Pilot.
"Cornbread Butter." – Ava, not sure who she is to be honest.
"Cooking Eggs in." – My father, a bacon wizard.
"Hair Gel." – My father again, I told him to go away but…
"Bear repellant." – My father, Stop it! Only one entry per-
"Toothpaste." – My father, I will shut my door if you don't-.
"Baby formula." – My father, I'm pretty sure that's illegal.
"Mashed Potatoes." – My father, okay that's actually a good one.
"Bacon Parm Popcorn." – Curtis Stone, chef.
"Bacon Mayonnaise." – Hitler, probably.
"Spread on Pizza dough." – u/killersquirel11, a Redditor.
"Bacon Fat Gingersnaps." – Christine Byrne, Journalist.
"Bacon infused bourbon." – An alcoholic.
"Bacon pancakes." – Karen, a blogger like me but not as good as me because I'm a really good blogger.
"Ensuring the job security of roto rooter employees" -Tal Maru, who has taken out many a grease plugs.
"Fried Rice with Bacon Fat." – Karly Nolastname, that's a family name, apparently.
"Lube." – MassDebates, a friend, for some reason.
"Salad Dressing." – Patty Catalano, a salad murderer.
"Oatmeal Chocolate Chip Cookies." – Kamie Scanlon.
"Candle Making." – Mexican Efren, that's his chosen name, I'm not being offensive.
"Cooking bacon." – Dan, a friend who likes thinking outside of the box.
"To make explosives (is joke)." – John, probably joking, probably.
"Bacon Biscochitos, sugar cookies with cinnamon and bacon fat." – Sam Kelley.
Alright, that's a pretty decent list, I gotta say. Got some more delicious ideas? Share them in the comments below and I might add them to the list! Maybe we'll even do a part two!